March 18, 2020 | Todd Bostock
Winery Update :: COVID-19 Response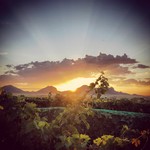 To Our Fellow Humans:
We have spent the last few days trying to figure out how to react & respond to what is really uncharted territory. We have been closely watching and carefully digesting the recommendations from the CDC & Arizona DHS to determine how our business needs to adapt to a rapidly changing landscape. With Thursday looming large on the horizon & the TastingRoom scheduled to re-open - it is time for us to stop procrastinating & start actuating. With that in mind, deep breaths... this is what we've come up with.
---
Shipping Relief:
Starting today, UPS ground shipping will be included on all orders of 3 bottles or more. Easy peasy. If you want wine to show up at your door, we want to help get it there.
(excluding Alaska & Hawaii)
---
Modified TastingRoom Operations:
We will continually monitor communications from the folks that know best & modify our plans accordingly. As the situation at large evolves, so will our situation at the winery. As of now, this is what we've got:
Our TastingRoom hours will remain the same Thurs-Sun 10:30-4:30
Our tasting bar will be limited to take-out orders only - we encourage folks to take advantage of this option to grab bottles to enjoy at home or out in nature.
If you'd like us to meet you at the curb - we can do that, give us a call & we'll work it out: 520.455.5141
WineTasting service will be limited to private tastings with small groups (8 or less) in separate rooms inside or on our patio with ample space between tables (6 feet +).
We strongly recommend that folks make reservations. Our capacity will be severely limited and we may not be able to accommodate walk-in traffic.
Our tasting menus won't be pretty, but they also won't get re-used.
We'll be BYO palate cleanser. The Sonoita Mercantile & Mini Mart both offer great salty snacks to keep your palate performing at its peak. Pick them up before your visit or bring something from home.
We will schedule ample time between groups to thoroughly clean and sanitize surfaces between seatings.
We feel that these temporary measures will allow us to responsibly serve our customers, crew & business. We want to be here to offer you all as good of a time as is possible for as long as we can.
---
Support Your Local Wine Shops & Restaurants:
All of our industry friends and partners are being hit really hard by this crisis. They need all of the help they can get - right now. Please make an effort to give them your business. We will keep our website up to date with all of the restaurants and retail outlets that sell our wines. Order some takeout. Pick up some bottles. Try to stay positive.
---
Last Words
We want to make a point to thank you all. We are here today because you all have supported what we've been up to all these years... and we will be here tomorrow with your continued support. Take good care of yourselves and those around you. We'll get through this together.
Sending love from Baja Arizona.
-The Dos Cabezas WineWorkers
Comments
Commenting has been turned off.