Dos Cabezas GiftCard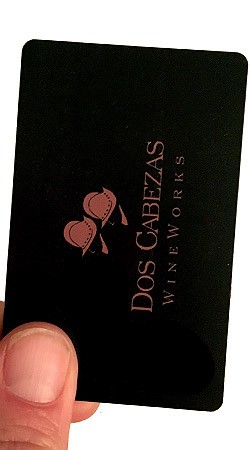 Dos Cabezas WineWorks :: GiftCards!
Available in a few different values.
May be redeemed online or in person at our tasting room in Sonoita. GiftCards work just like cash, never expire & can be used towards wine, tasting, t-shirts - anything we sell.
GiftCard will be sent to the recipient as a digital code via email.
Be sure to enter a gift message, the recipient's name & email information in the "Shipping Address" section at checkout.
Some items of business to note:
We are not responsible for lost or stolen GiftCards
We are not responsible for unauthorized use of GiftCards
GiftCards are only redeemable for stuff we sell
Unused value remains and cannot be redeemed for cash
This is not a credit/debit card and has no implied warranties
Product Reviews