2012 Lorenzo's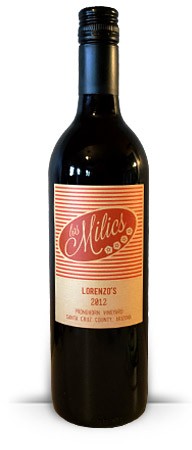 The Los Milics wines are a collaboration between Dos Cabezas WineWorks & Pavle Milic, co-owner of one of our favorite little gin joints - FnB Restaurant in Scottsdale, Arizona. Pavle runs one of the best restaurant wine programs we know of. The Phoenix New Times called Pavle's winemaking adventure with Dos Cabezas WineWorks "The Best Quixotic Adventure" of 2012. The 2012 Los Milic's "Lorenzo's" is among the results of this adventure. Named after Pavle's youngest son, Lorenzo's is 100% Monastrell (Mourvedre) from the Pronghorn Vineyard in Sonoita. Aged for 24 months in new, 225L French oak barrels. Bottled without filtering or fining. Only 50 cases were produced. As this is a collaborative wine, we offer a collaborative tasting note (contribution from Pavle in italics): cool carmine colored in the glass, perfumed dried orange peel & mulling spice on the nose, delicate red fruit tones paired with some umph from the barrels renders this wine both pretty and structured. Light in weight on the palate, but sticky, savory, saline & tactile in the mouth. The toast from the wood is apparent right away giving away pine and herbs. Lean and focused. Side effects of consumption may include a longing for the delicate, crispy little pillows of Manti that (**cough** James Beard Award Semi-finalist) Charleen Badman from FnB stuffs with lamb, peppers with pomegranate arils & surrounds with tiny islands of yogurt.
Product Reviews
Mary Silvestri
(Feb 15, 2016 at 5:37 PM)
Beautiful color of a Pinot Noir but a fruity bouquet of berries with a nip of desert sage.